Analysis of websites dedicated to Channels for Telegram Messenger

Telegram Channels Catalog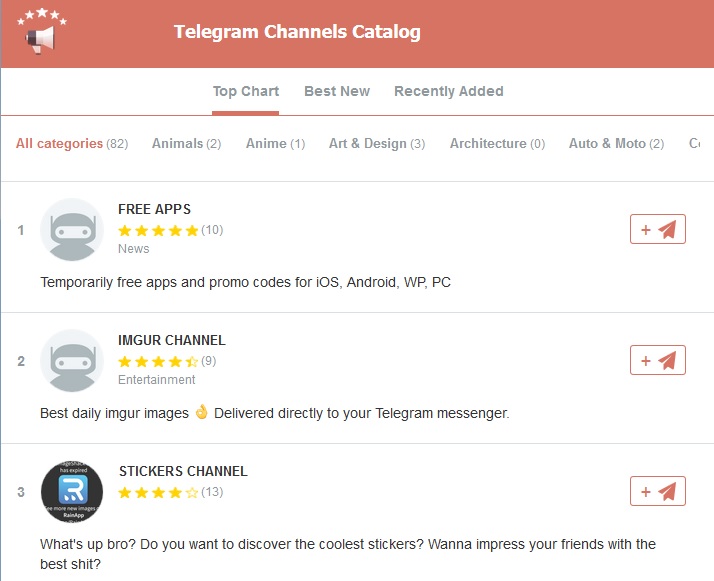 First, we will discuss with tchannels.me, the most complete directory of Telegram channels. The website has been developed by the same team that already launched storebot.me, having an excellent reception from users and developers because it allows you to automatically enter in your own Telegram Bots.
Operation of tchannels.me is basically identical to storebot.me. Also, now available @tchannelsBot, where you will be able to explore all channels contained in tchannels.me.Lots of third party developers (or regular users) publish their own channels here, allowing the entire community consult new channels On one hand, if you are a Telegram addict, and your aim is to dive among all available channels in the Telegram community, this is your bot. On the other hand, if you're more selective and prefer them to show you the most popular channels, maybe you should continue reading this article, there are other possibilities for this.
Channels for Telegram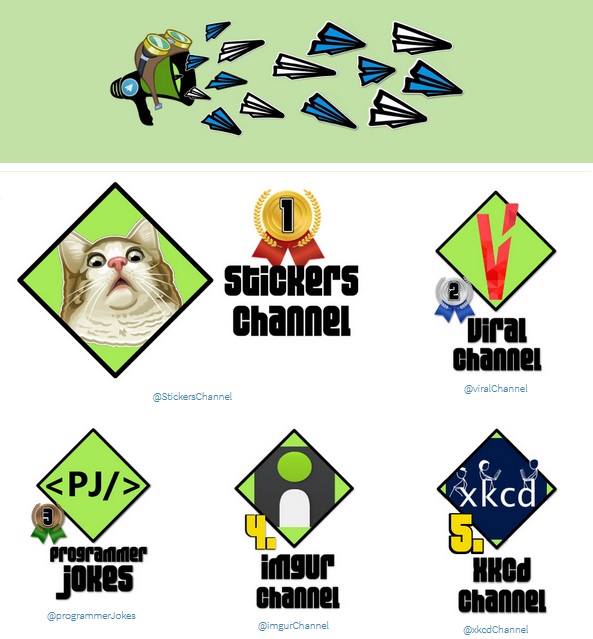 Then we take a walk through channelsfortelegram.com, a completely different way of exploring Telegram Channels.
Careful selection of channels, showing only the TOP onesWe could observe that the emphasis has been designing, leaving in the background the mass storage channels. We must be aware that this is not a mass media channel webs,
The design is quite amazing, as is decorated with a very suggestive and funny cartoon style. At the moment there are only a couple of lists (TOP Global and TOP Funny), but we have been informed that they are already working to offer more lists with the most prominent and powerful Telegram channels (TOP Countries, TOP News or TOP Viral Channels among others).
In conclusion, a more simple and intuitive way to explore the best channels Telegram offers, reducing search time.
If you want to get down to business and get into the most popular Telegram channels you should visit channelsfortelegram.com.


BotPult Channels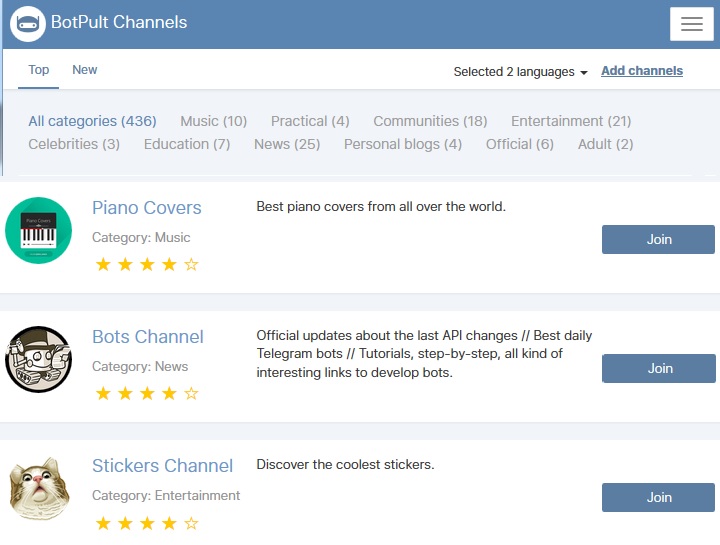 BotPult is another great option to explore hundreds of channels and find the one that best suits your interests.
The site has an excellent design, simple and elegant.The truth is that it has many similarities with the previously (tchannels.me)analyzed, with the particularity of not having a fully integrated Web-Bot to score Bots directory. In any case, it also has good authentication system to BotPult by its own Bot.
In short, another good option if you want to spend a long time exploring and looking for the best Channels that suit your needs.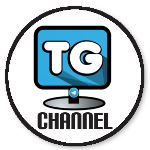 By the way, you can join our recently created Telegram Geeks Channel.